Red wrigglers: trouble-free and useful pets!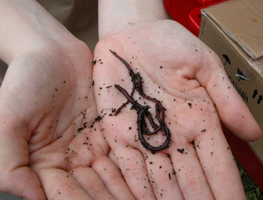 Did you know that table scraps and yard waste account for about 40% of our garbage? That's really too bad, because we're throwing out valuable natural fertilizer that ends up in landfills. Vermicomposting (worm composting) is a simple way to recycle most of this organic material.
What is vermicomposting?
As its name suggests, this composting method relies on worms, more specifically a type of worms known as red wrigglers (Eisenia foetida). Safe inside a covered bin, they transform food scraps and plant waste into high-quality compost. You can vermicompost year round indoors or on a balcony in summer (red wrigglers can't survive freezing temperatures).
[More via Vermicomposting Green Pages [Montréal Botanical Garden]
Homegrown Pots
Tired of populating your garden or windowsill with plain terra-cotta pots?
Try these reuse-friendly alternatives.
The Green Grape
Everybody knows that wooden wine or soda crates…
Bowled Over

Salad bowls…
In a Pickle

Kitchen stoneware lasts…